Kalinga Institute of Social Sciences (KISS) Deemed to be University, which is regarded as the world's largest anthropological laboratory, has been awarded the privilege to host the XIXth International Congress of Anthropological and Ethnological Sciences (ICAES) 2023. India, represented by KISS, won the bid against Croatia by a huge margin to host the next edition of this prestigious World Congress of Anthropology at KISS in 2023 in collaboration with Utkal University and Sambalpur University.
More than 10000 delegates from over 150 countries are expected to participate in the World Congress, which is held every five years in different parts of the world. ICAES is the largest gathering of academicians and researchers in the fields of Anthropology and Ethnology in the world. It is also the oldest meet of the scholars engaged in the scientific study of humankind. India will be hosting this prestigious meet after a long gap of 45 years.
KISS Deemed to be University, the first ever tribal university of the world, won the highly competitive bidding process after a lot of efforts, constant follow-up, communication, presentation, defending and going through a rigorous procedure of voting. KISS had applied earlier in 2014 but lost the bid to Brazil then. This time, during the congress held in Brazil from 16th to 20th of July 2018, the final bidding was held between KISS and Croatia. KISS from India got 2084 votes, while Croatia managed to get only 89 votes. Prof. Soumendra Mohan Patnaik, VC, Utkal University, Prof. Deepak Behera and KISS team presented before the General Assembly the plan to host this mega event.
Department of Anthropology, KISS Deemed to be University; Department of Anthropology, Sambalpur University; Department of Anthropology, Utkal University and Indian Anthropological Association, Delhi are the partners of the proposed World Congress. Further Indian Anthropological Society, Kolkata and Ethnography and Folk Culture Society, Lucknow have also agreed in principle to be the partners. Planning to collaborate with all major Anthropological Bodies in India is underway.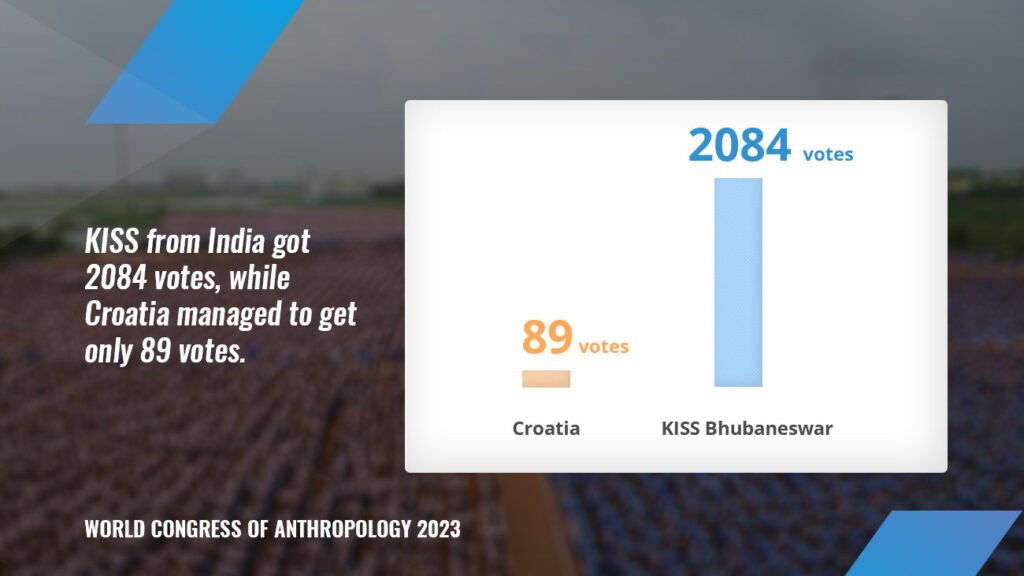 Dr. Achyuta Samanta, Founder, KIIT & KISS has always tried to bring various prestigious mega events to Odisha through KIIT & KISS. He has brought World Congress of Anthropology, the world's oldest and most prestigious anthropological and ethnological congress, to India after 45 years, which is a matter of pride for Odisha as well as the country, opined intellectuals and academicians. Dr. Samanta thanked Shri Naveen Patnaik, Chief Minister, Odisha and Govt of Odisha for all their support. Also he thanked Prof. Patnaik, VC, Utkal University and Prof. Behera, VC, Sambalpur University for their cooperation. A press meet will be held in the coming week where Dr. Samanta and VCs of both the University will address the press and brief about the congress.