KISS Deemed to be University took birth after the accomplishment of KISS Tribal School in imparting quality education to the underprivileged section of the society which began as a school with only 125 tribal children at a rented house in Bhubaneswar, and now having transformed into first exclusive tribal institution in the World providing education free of cost with free lodging and boarding with all amenities and state-of-the-art-technology-empowered independent campus to over 30,000 indigenous tribal children that prompted to have an addition, an university aiming exclusively to provide higher education to the indigenous section.
The progress of KISS Tribal School was able to successfully arrest poverty, ignorance and illiteracy to a much higher extent from the deepest and untouched corner of Odisha while freeing the tribal from the terrors of Naxalites. The children who came to KISS entered into a bright world of education from the darkness of forests and have gone much further in life by excelling academically and doing exceptionally well in various sectors. Such remarkable outcome prompted to provide more beyond secondary education which led to establishing KISS University for higher education.
The campus of KISS for higher education was granted Deemed-to-be-University Status by the Ministry of Human Resource Development, Govt. of India vide its letter No F.9-14/2011-U-3(A) dated 25 August 2017.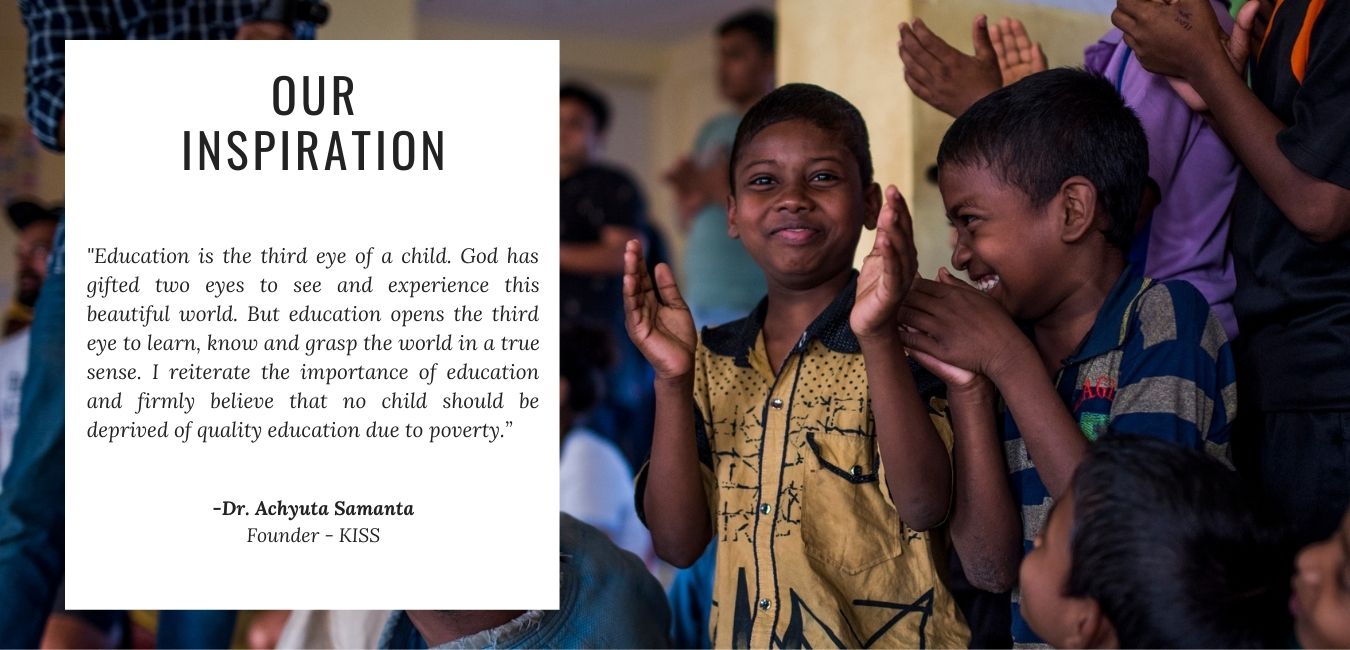 Relation to KISS & KIIT Group of Institutions
The extraordinary vision of the Founder to unshackle this world from poverty, hunger, illiteracy, social alienation, and unemployment led him to set up a small vocational training centre, Kalinga Institute of Industrial Technologies (KIIT) without any backing, banking and background with mere five thousand at hand.
With KIIT growing at its pace, another institute, Kalinga Institute of Social Sciences (KISS) was established side by side, especially to provide basic education to the tribal children of our society. Thereafter, Kalinga Institute of medical sciences (KIMS) and Kalinga Institute of Dental Sciences (KIDS) were established to provide study, treatment and prevention of human diseases to the people of Odisha and beyond.
Learn more:
KIIT – Kalinga Institute of Industrial Technology Website
KIMS – Kalinga Institute of Medical Sciences Website
Our Help Desk
Gender & Equality
Grievance Cell
KISS Campus-3,
Bhubaneswar, Odisha, India
+91 8114399301