KISS Deemed to be University, in association with National Institute of Disaster Management, New Delhi, organized a three-day Online Content Orientation Training (COT) Programme on Child Centric Disaster Risk Management from 3rd to 5th March 2021 .
In the recent past, India has experienced numerous devastating disasters such as Latur Earthquake (1993), Odisha Super Cyclone (1999), Bhuj Earthquake (2001), Indian Tsunami (2004), Jammu Kashmir Earthquake (2005), Bihar Floods (2008), Uttarakhand Floods (2008), Cyclone Phailin (2013), Chennai Floods (2015), Kerala Floods (2018), and Cyclone Fani (2019). The aftermath of these disasters often makes the lives, constitutional rights and the needs of children nationwide miserable. To add to the existing troubles, draughts are slow onset disasters which are increasingly affecting children and women with the same intensity.
In view of the increasing vulnerability of children to climate change and natural disasters, the National Institute of Natural Disaster Management (NIDM), Ministry of Home Affairs, Government of India has established the "Child Centric Disaster Risk Reduction Centre" (CCDRR) to mainstream child centric disaster risk reduction activities through training, research, advocacy and consultancy. This three-day online training programme aimed at highlighting concepts of Disaster Risk Management, outlining the impact of disasters on children (including mental health), describing the concept of child centric disaster risk reduction, enumerating the already listed CCDRR activities, devising the processes and applying strategies for school safety with the engagement of children. The training programme embraced two modules -Disaster and its impact on children and Child Centric Disaster Risk Reduction. Officials working in Health, Education, Women and Child welfare, Revenue and Panchayat Raj, Rural Development Department and teachers participated in the online training programme.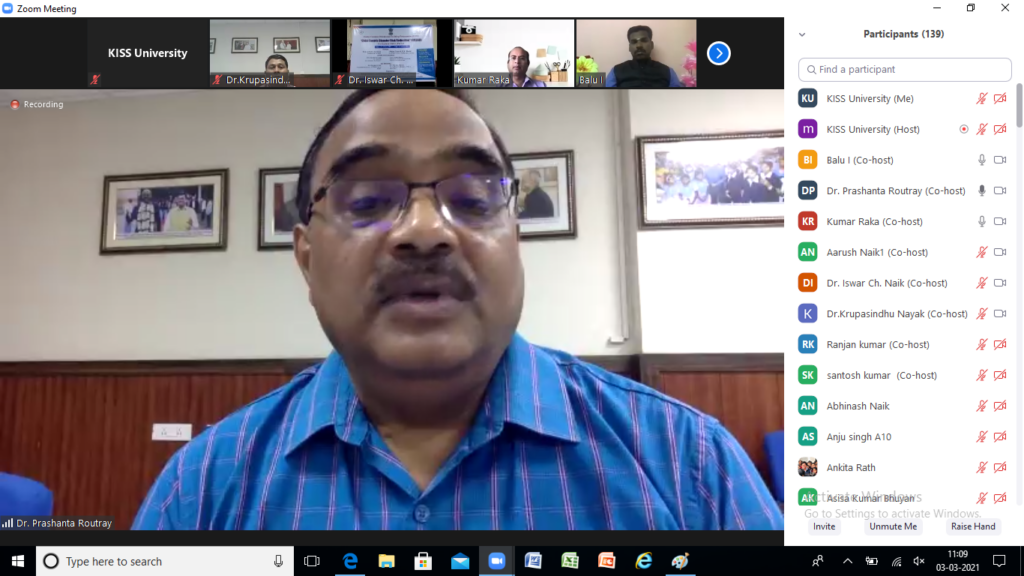 The sessions were graced by resource persons from National Institute of Disaster Management – Prof. Santosh Kumar, Professor and HoD (GiDRR& CCDRR); Dr. Kumar Raka, Programme Officer; Dr. Balu and Shri Ranjan Kumar, Programme Associate; as well as Ms. Namrata Sharma from YWCA, New Delhi. From KISS Deemed to be University, Dr. Prashanta Kumar Routray, Registrar; Dr. Iswar Chandra Naik, Associate Dean; and Dr. Krupasindhu Nayak, Assistant Professor played a steering role in bringing their idea to fruition.