KISS Deemed to be University, in association with Child Centric Disaster Risk Reduction (CCDRR), National Institute of Disaster Management (NIDM), Ministry of Home Affairs, Govt. of India, organized a webinar on 'Disaster Risk Management in India: Issues and Challenges' on 21st December 2020.
India is one of the most disaster prone countries with 55% of the land area vulnerable to earthquakes, 70% of cultivation land vulnerable to drought, 12% to floods and 8% to cyclones. A huge amount is spent in relief and rehabilitation measures every year. It is evident that an investment in disaster preparedness is the need of the hour as it can save thousands of lives, vital economic assets, livelihood and reduce cost of overall relief assistance. Odisha has set a benchmark in disaster response in the country, having remarkable experience in responding consistently to various disasters efficiently. Odisha has embarked upon a journey to take things a notch-up by creating a culture of prevention and achieving resilience through critical tools like risk assessments, education, coordination, supporting policies, good governance, risk informed programming, early warning systems, contingency plans, etc.
Kalinga Institute of Social Sciences (KISS) addresses these complex interlinked issues within 30 districts of Odisha and specifically aims at Disaster Risk Reduction (DRR) activities through education and practices at field by outreach activities through students, thus building a resilient system in the community. This webinar strived to identify and discuss mechanisms for monitoring disaster risk management and policies for issues faced in disaster-prone areas. The expected outcome is to establish a strong cohesive disaster risk management coordination mechanism, mapping the capacity needs and gaps.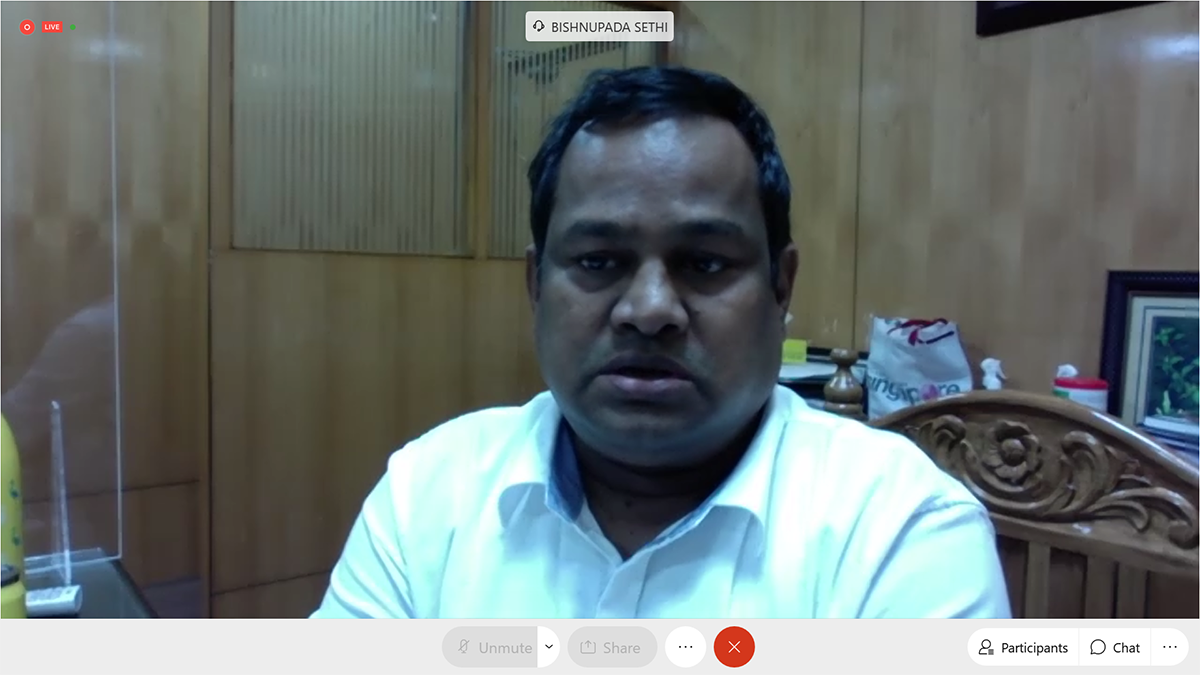 Speaking on the occasion, Shri Bishnupada Sethi, IAS, Principal Secretary, Revenue and Disaster Management Department, Govt. of Odisha, said: "Disaster Management is an evolving subject. Odisha has already achieved zero casualties and is now steering towards attaining zero disruption. Some of the steps taken in this regard are building resilient houses, robust electricity grids, telephone towers and protecting livestock and the assets of the marginalized communities. The NSS, NCC, Home Guards, Rovers and Rangers have been playing a crucial role in this regard."
Prof. Santosh Kumar, Head, GIDRR & CCDRR, NIDM, Govt. of India said: "Odisha is doing a good job in dealing with disasters. With a 485-km coastline, there is a dire need for building a foolproof infrastructure. That apart, people should be made aware while appropriate steps should be taken, so that it reaches both individual and community levels."
Earlier, Dr. Prashanta Kumar Routray, Registrar, KISS-DU stated, "KISS has earned the University status in view of the innovative subjects being offered. The University not only provides education but also offers Life Skills Education. Over 700 NSS volunteers (students of KISS-DU) are directly and indirectly involved during the current pandemic". The Founder of KISS, Dr. Achyuta Samanta has been emphasizing in creating these change agents in the society, he added.
"Students are the strength and the real energy of the country. The entire focus should be on reducing, preventing, mitigating and managing the risks. Students have a specific role to play and KISS-DU is endowed with the potential to handle everything. The services of the students are being utilized during this pandemic which includes providing mental strength to the family members of the Covid-affected and creating awareness programmes," said Prof. Harekrishna Satapathy, Advisor, KISS-DU. Crisis should be converted into confidence and KISS has been meeting its social responsibilities since the outbreak of the pandemic, Prof. Satapathy added.
The session was jointly moderated by Dr. Kumar Raka, CCDRR, NIDM and Dr. Prashanta Kumar Routray, KISS-DU. It was coordinated by Dr. Krupasindhu Nayak, Assistant Professor, Sociology, KISS-DU and Mr. Ranjan Kumar, Programme Associate, CCDRR, NIDM, and supervised by Dr. Iswar Chandra Naik, Associate Dean, KISS-DU.