A Dream of 2 Million
By now, anyone familiar with KISS Foundation has understood that we were crafted from Dr. Achyuta Samanta's selfless dream of a world without poverty, hunger and illiteracy. Having himself suffered for much of his youth with poverty, loss and hunger, it has been Dr. Samanta's lifelong dream to diminish the sufferings of others, particularly Odisha's many tribal communities. This is no small task; 22.8% of the state's population is tribal, and while each of the 62 tribes are rich in cultural heritage, they are unfortunately united by the vicious cycle of poverty and insufficient access to formal education.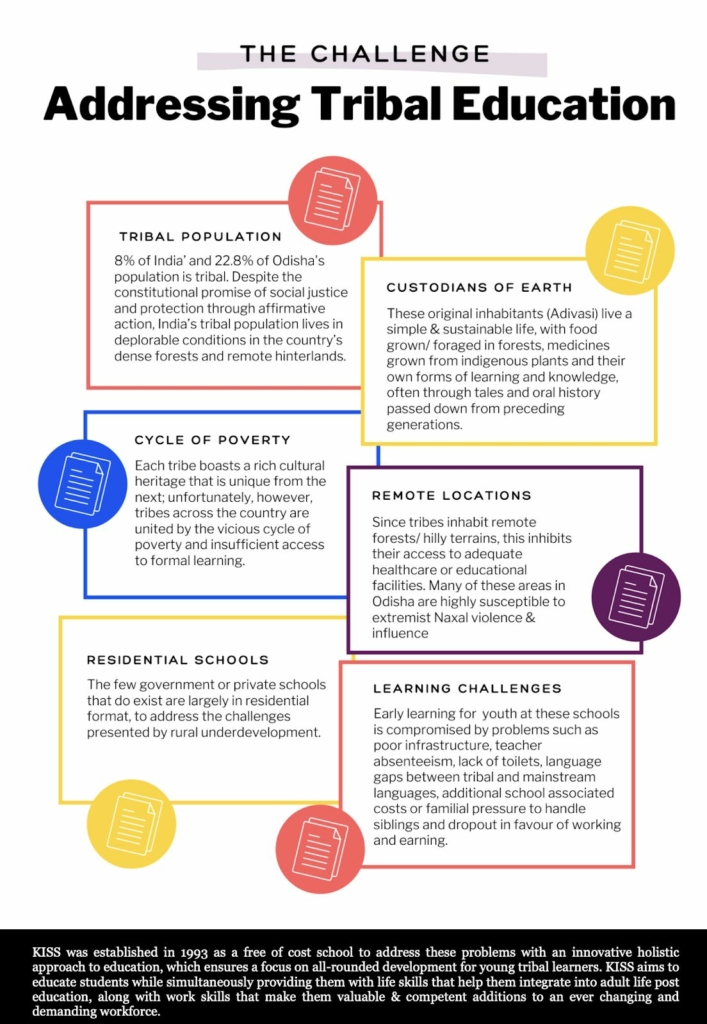 Dr. Samanta firmly believes that accessible and affordable education is key to sustainable development and thus KISS was crafted as a completely free of cost model from this dream. Firmly grounded in our tribal roots, we have always adhered to the principle of having tribal control of education, taking pride in our diverse tribal cultures, art, dance, languages, folklore and so on. From starting with 125 children in 1993, we are now home to over 60,000 youth across the country and nurture a dream of educating 2 million of India's poorest children over the next decade.
Free education, food, healthcare, accommodation and equal opportunities are our tools to empower children to become changemakers in society. This is our small revolution in the global fight to reduce poverty, illiteracy and inequality. Yet, this is not the time to sit back on our laurels; despite progress made, literacy challenges persist globally with at least 775 million adults worldwide lacking basic literacy skills today.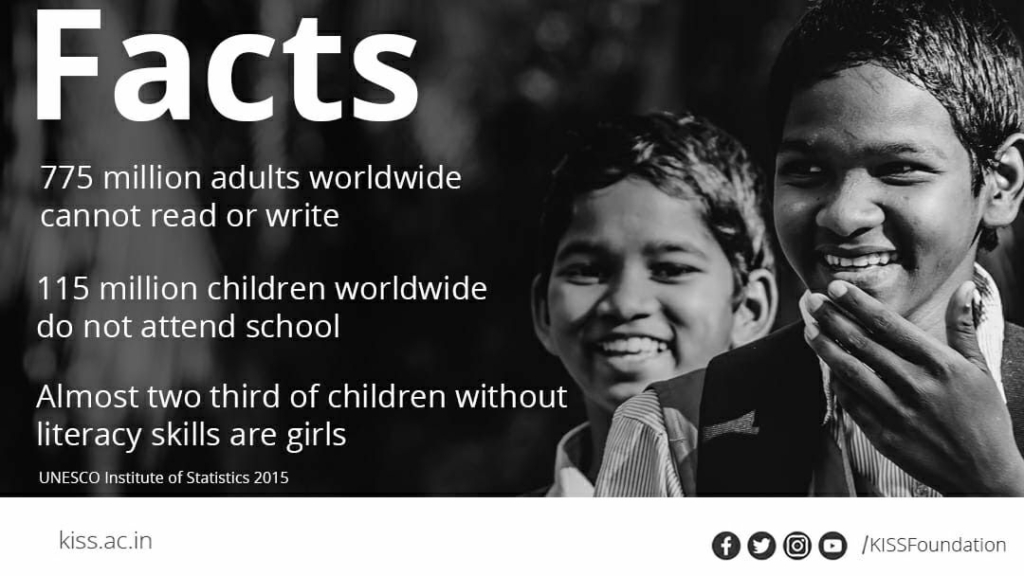 The Link Between Literacy, Education & Sustainable Development
Perhaps it is pertinent, at this juncture, to clarify the link between literacy and education – the two terms are related, although they are frequently misused interchangeably.
Literacy, is defined as acquiring the ability to read, write and understand. It is entirely concerned with the art of reading and writing and provides information that can be used as a means to attain knowledge. It is a primary form of information transformation in this day and age.
Education, on the other hand, is defined as the systematic process of facilitating learning, receiving, experiences and/or acquiring knowledge, skills, values, beliefs to impart instructions and provide an overall development.
While an educated person can be literate, not every literate person can be called educated. Education is a broader concept which takes into consideration the all-round development of a human personality. However, there is no doubt that literacy provides a person with the ability to acquire information to develop the know-how called education, and this in itself makes literacy a stepping stone to education.
Given the world of knowledge, information and opportunities that literacy, and in turn, education open up to individuals, it is then no doubt that both are key drivers in achieving sustainable development around the globe. At KISS, it has been our focus to drive sustainable development, in these regards, particularly for our tribal communities.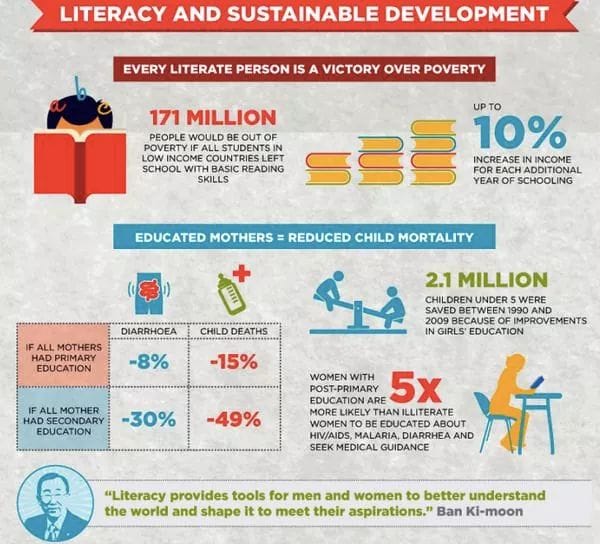 The Covid Challenge
When news of the first coronavirus case in India broke in late January, perhaps no-one imagined it would be as severe an outbreak as it is now. By mid-March, India registered upwards of 100 cases and descended into the first of many successive lockdowns. In the months that have followed, millions of lives have been affected as a large chunk of the country's workforce relies on daily wages to meet their basic needs.
Even in a time like this, the value and importance of literacy and education cannot be underestimated. The COVID-19 pandemic presented great challenges to the education sector; during this time, lockdown related disruptions to global education systems have resulted in  nearly 1.6 billion learners in more than 190 countries needing to experiment with new ways of learning that go beyond desks and books.
For some, progress in technology allowed students to continue their lessons and classes through remote online learning, harnessing the power of smartphones, tablets or PCs and an Internet connection.  However, the results of this global crisis have been quite diverse. Among other things,  the pandemic has undoubtedly exacerbated pre-existing education disparities by reducing the opportunities for many of the most vulnerable children, youth, and adults – those living in poor or rural areas, girls, refugees, persons with disabilities and forcibly displaced persons. These inequalities were often further aggravated, by a lack of access to technological facilities making it impossible for them to access education remotely, resulting in more discrimination for communities already marginalized, thus depriving them of the fundamental human right to education.
Adapting to Covid
This was a particular challenge for KISS, as our student body consists of tribal students from impoverished backgrounds. From a health perspective, as soon as the first case was announced in India in March, KISS sent its students back to their villages as a precautionary measure. Shortly thereafter, KISS joined hands with its sister organisations KIIT and KIMS, and various stakeholders, to initiate an action plan to help the worst-hit sections of society.
Once our students were safely sent home, the challenge for us was to ensure that learning did not stop indefinitely because of the pandemic. Unlike with our sister organisation, KIIT University, online learning presented a challenge for us. Technology like Zoom – even the laptops and internet connections used to enforce them – were not easily available, affordable or practical for our tribal communities, who inhabit remote locations across Odisha. In many parts of the state, network connectivity is also shoddy.
Ensuring that learning continued, meant turning towards more unconventional technologies for learning – embracing Whatsapp, radio and television to conduct classes, or making the long trips to deliver school books across the State.
Multiple consignments of books, food and relief materials were sent by our buses across Odisha
Alongside our students, our staff members have also worked around the clock to learn these new technologies. Considering the financial fallout of the pandemic and lockdowns, KISS also delivered rations, books and school supplies to the households of every individual student across the State. We have also harnessed the power of our youth leaders and volunteers from our Mission UDAY initiative with UNFPA to travel to every district and village raising awareness about Covid prevention and sanitation measures while distributing masks and medical supplies.  This number is mind boggling considering that we have 30,000 students at our campus in Bhubaneswar, alone.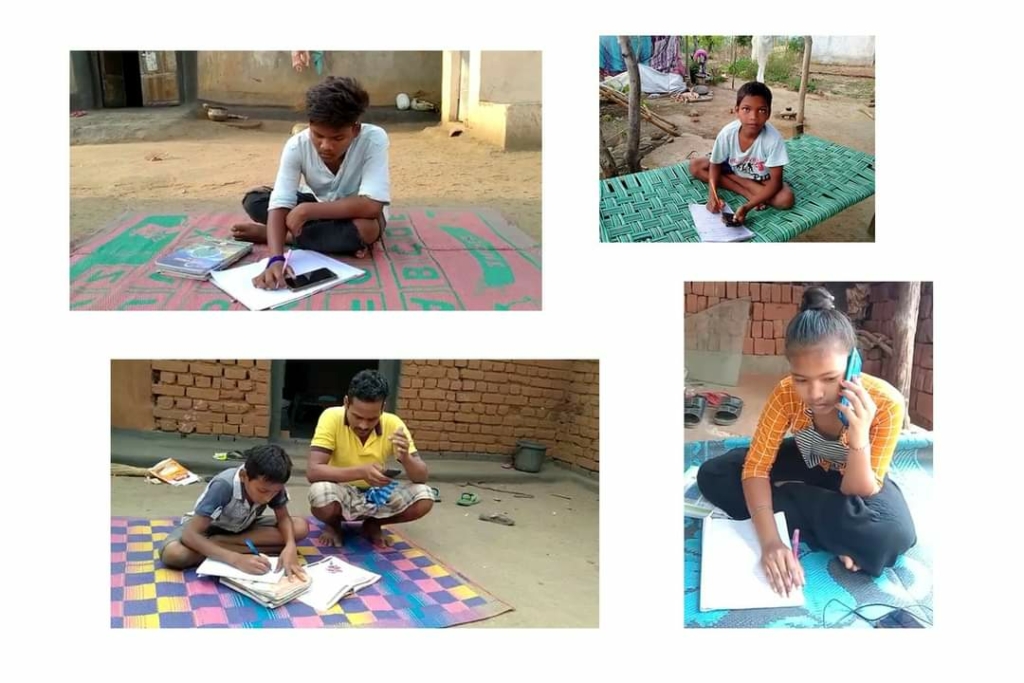 These initiatives have allowed our tribal families and children to not only to engage in their school activities but also abide by all rules of social distancing and quarantine through access to much needed resources from the safety of their own homes. Through this initiative,KISS has been helping vulnerable tribal families to maintain access to education throughout these difficult times.
Moving Forward
But what lies ahead? Recalibrating our Campuses once the pandemic begins to subside, will mean that KISS will have to adapt a new normal based on the guidelines issued by the government and education boards like UGC. Our residential model, and the sheer size of it, will present unique challenges in this regard, but we are determined to ensure that no matter what – the safety and education of our students is guaranteed.
Initiatives like our Covid responses can help people during these moments of uncertainty, when the world's lives and routines have been disrupted and changed indefinitely by global suffering. Even in these extraordinary moments, at KISS Foundation, we have made it a point to acknowledge how essential education is, as it provides a window to everyone hoping for a better future. That is why at KISS, we are working hard to promote change, by continuously supporting our tribal communities, allowing students to continue the pursuit of their education, even if in new and unusual ways.
What remains essential for everyone, and especially to our mission at KISS Foundation, is ensuring that education remains accessible to all despite their conditions, that new ways and methods of learning can be implemented and that our education systems can be adapted to be stable enough to face crises like COVID-19 without further widening existing social gaps.
Light in the Dark
Our goal with educating our students has always been to empower them to become changemakers. While we pause to reflect on the effect of Covid19 on education, on the occasion of International Literacy Day 2020, we realize that even this pandemic cannot dim our dreams. Perhaps one of the most validating gifts we could receive the pandemic is that despite the challenges that our students are facing, they have continually stepped up to help their peers.
We'll leave you with this story of KISSian Jayshankar Praska, from Raghunathpur village in Raygada district of Odisha. Jayshankar is a PG student, pursuing a degree in English and since the beginning of the lockdown, he has been dedicated in his efforts to teach the young children in his village.
Students like Jayshankar understand the importance of education and ensure that none around them are deprived of this right.  At the end of the day, this is our dream in action – watching our students nurture their own dreams while they empower those around them.
Isn't this enough proof that literacy matters?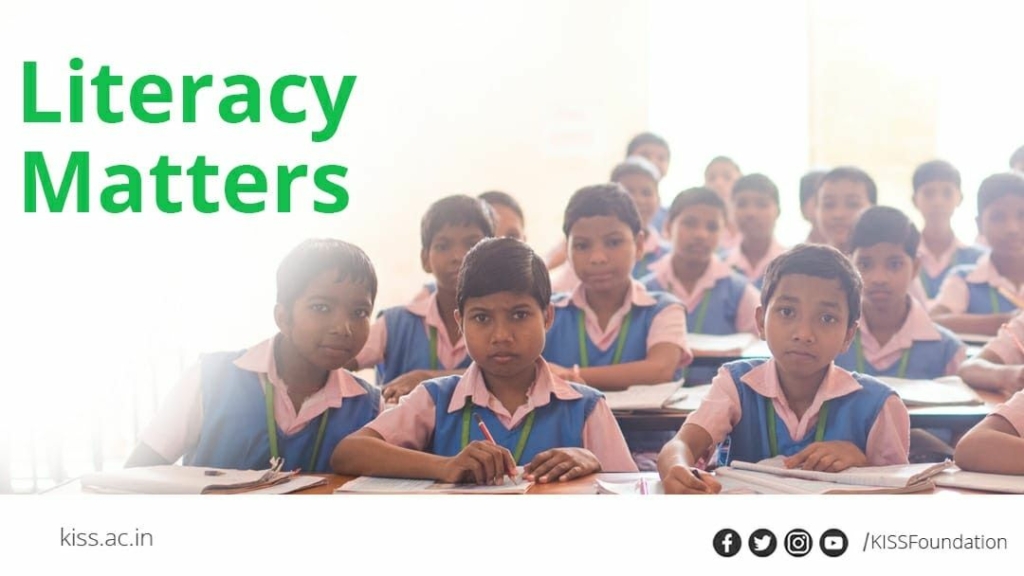 If you are interested in the work of KISS Foundation, KIIT University and our partners, please follow us on social media, and share our content. You can also reach out to us any time via [email protected]
To learn more about our Covid19 initiatives with migrants, transgender community and others please visit: https://kiit.ac.in/covid-19-news