Kalinga Institute of Social Sciences (KISS) has achieved another World Record on 7th November, 2019. As many as 26,382 tribal students of the institute created the World Record and thus promoted Oral Hygiene through brushing their teeth simultaneously at a single venue, i.e. KISS. Facilitated by Kalinga Institute of Dental Sciences (KIDS), the event was organized in partnership with Indian Association of Public Health Dentistry (IAPHD) and Colgate Palmolive India Limited. In the process, KISS broke the previous World Record held by DPS, Delhi in which 16,414 students had participated in mass brushing on 7
th
 January, 2016. Shri Sudam Marndi, Hon'ble Minister, Revenue & Disaster Management, Govt. of Odisha; Shri Raghunandan Das, Hon'ble Minister of State (Ind.) for Water Resources, Information & Public Relations (I & PR); Shri Rishi Nath, Representative, Guinness World Records; Shri Ram Raghaban, Managing Director, Colgate Palmolive (India); Shri Sabyasachi Saha, General Secretary, Indian Association of Public Health Dentistry (IAPHD); Dr. Achyuta Samanta, Founder, KIIT & KISS; Shri R. N. Dash, Secretary, KIIT & KISS; Dr. P. K. Routray, CEO, KISS; and officials from Guinness World Records were present and witnessed the colorful event.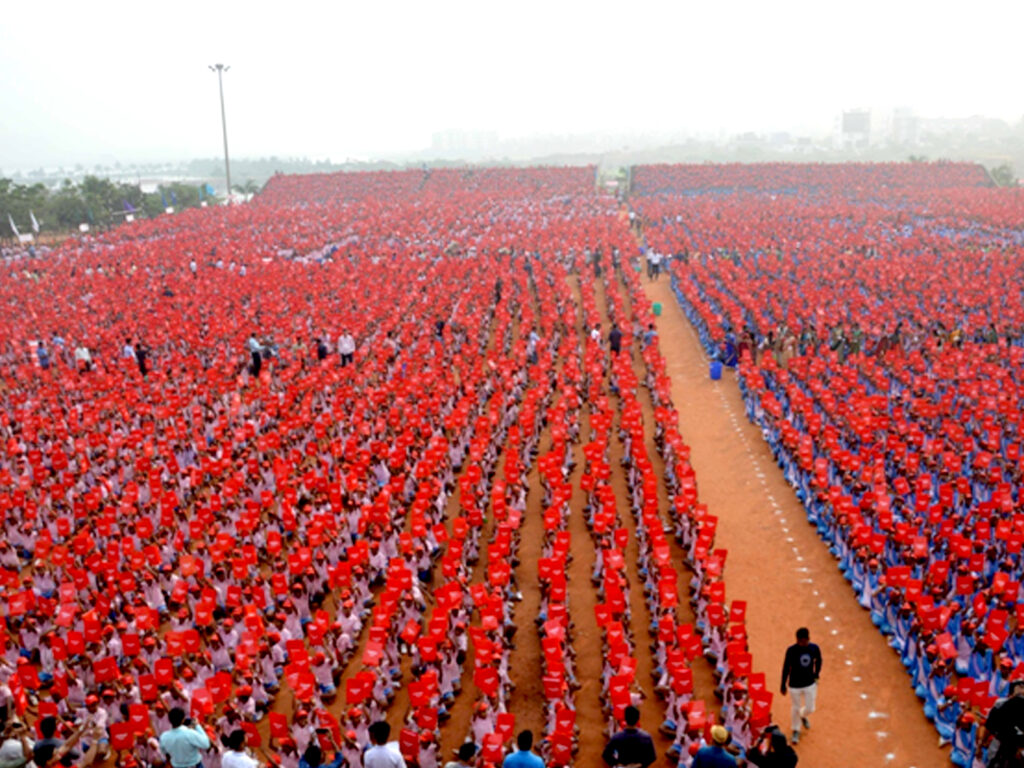 Celebrating the 'National Tooth Brushing Day' on 7
th
 November coinciding with the Silver Jubilee of IAPHD, students of KISS raised awareness for Oral Hygiene, lack of which leads to various dental diseases including oral cancer. In fact, this is the 4
th
 Guinness World Record created by KISS. Earlier, it had set the double World Record in 
'Largest Human Sentence'
 reading "WE URGE FOR WORLD PEACE" and 
'Most Simultaneous High-fives'
 at the same event on a single day in December, 2015. In August, 2017 it created World Record for the 
Largest Laughter Yoga Class.