As per the UGC letter no. D.O.No.2-81/2022 (CPP-II) dated 7th September 2022, KISS-DU organized the "Swachhata Pakhwada", from 1st – 15th September 2022. KISS-DU is committed to a clean and green campus will continue the efforts in the days to come. KISS-DU has been meeting the Goal 6 Clean Water and Sanitation of the Sustainable Development Goals of the United Nations and continues to work relentlessly as a part of the Swachh Bharat Abhiyan.
The consolidated report of the various events is shared below:
Report on webinar on "Swachhata Pakhwada" on 8th September 2022
KISS Deemed to be University organized a webinar, keeping in view the pandemic precautions. The purpose of the webinar was to infuse the importance of hygiene and sanitation particularly during difficult times like the Covid-19 pandemic. The objective of the meeting was to elevate the awareness levels of the students & their parents/guardians regarding the sustainability of swachhata in addition to cleanliness during the pakhwada.
Dr. Prashanta Kumar Routray, Registrar KISS-DU, Dr. Tripura Mishra, Vice Principal-cum-Chairperson of Cultural Committee, over 30 students, 33 parents/guardians participated in the meeting. Ms. Sangeeta Parida, Faculty, KISS-DU spoke about the various ways how the villagers can involve themselves in the Swachhata Pakhwada Program. The parents/guardians were briefed about gathering and disposal of waste through collection drives from selected areas and stagnant water bodies.
Ms.Jukta Mukhi Sabar , a student of PG 2nd year, KISS-DU proposed a Vote of Thanks on the occasion.
Poster Campaign on "Curb the use of Single use Plastic"
KISS-DU students displaying posters stressing on  "Say No to Plastic Bags and Say Yes to Paper Bags"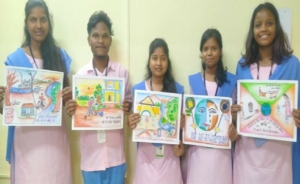 Developing Information, Education & Communication (IEC) on better hygiene related to COVID-19
KISS-DU students prepared IEC materials on cleanliness and sanitation to brief and aware the people about maintaining hygiene related to COVID-19. As a part of the Swachhta Pakhwada, the students had developed as well as instructed others on key areas like – use of masks, sanitisers, importance of maintaining social distancing and how to wash hands properly.
The Information, Education & Communication (IEC) activities revolved around nudging communities into adopting safe and sustainable sanitation practices.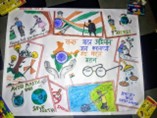 Report on Cleanliness Campaign in and around the campus on 10th sept,2022
As part of the Swachhta Pakhwada, the student volunteers as well as the NSS Volunteers of KISS-DU not only took initiatives in the campus but were also involved themselves in the cleaning of the periphery and pavements.