Kalinga Institute of Social Sciences (KISS)Deemed to be University (KISS-DU), Bhubaneswar inked a Memorandum of Understanding (MoU) with Gangadhar Meher University (GMU), Sambalpur for Strategic Partnership to provide impetus on academic, research and other activities at a MoU Signing Ceremony on 17th June 2021. The MoU was executed on blended mode with an objective to initiate students' exchange programs and nurture a symbiotic academic and research environment between KISS Deemed to be University, and Gangadhar Meher University. It was a historic event as for the first time KISS-DU signed MoU with a State University.
Dr. AchyutaSamanta, Hon'ble Founder KIIT and KISS in his address said: "I am happy to see so many luminaries present in this virtual MoU Signing Ceremony and I express my sincere thanks to Prof. N. Nagaraju, Vice-Chancellor of GMU for facilitating the entire process. I am sure that this will boost the mutual relationship and carry forward unmatched academic and research activities in the State in the days to come. I would like to share with this forum that KISS Deemed to be University is the first tribal university and is fully free and fully residential providing education from K.G to Ph.D. It is a home for tribal children and is popularly known as the second Shantiniketan. All the agencies of the United Nations work with us very closely which makes this a unique University. I take this opportunity to declare sponsoring of Gold Medals for the students of GMU who outshine in their examinations, in the name of KISS at the Convocation ceremony of Gangadhar Meher University as a token of our love and respect. I wish all the very best to both the universities in their future endeavours and making this collaboration a success."
Prof. N. Nagaraju, Vice-Chancellor of GMU, in his deliberation said: "It is a matter of pride to enter into an MoU with KISS-DU, we are one of the oldest universities in the State and are keen to exchange research work especially on social empowerment and welfare of the tribal community.  This platform will ignite and propel academic discussions and research interests, hence fostering a mutual relationship." Talking about the symbiotic benefits of this MoU, Prof. Deepak Kumar Behera, Vice-Chancellor, KISS-DU said: "It is for the first time we are signing an MoU during the pandemic and it is a moment of pride for all of us. The inputs furnished by Prof. Nagaraju during the entire journey will be critical in the development of KISS-DU. We are looking forward to a meaningful MoU and congratulate the faculty members of both universities. We at KISS are trying to reach the unreached by providing dry food packets during the pandemic under the Art of Giving initiative, a philosophy introduced by our Founder, Dr. Samanta, who strongly believes that "Education is the third eye of a child".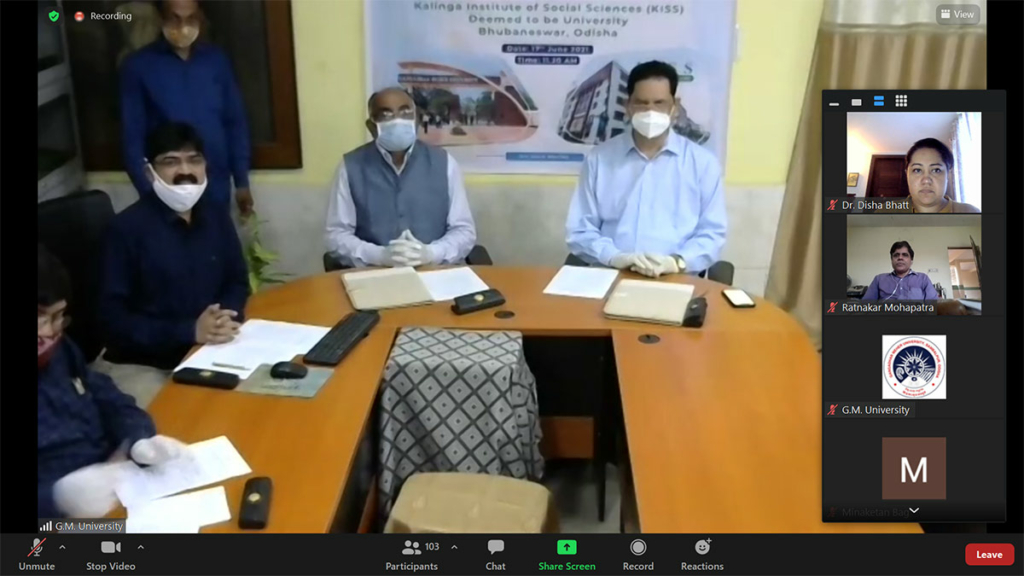 Prof. Pitabasa Sahoo, Pro-Vice Chancellor, KISS-DU in his address said: "GMU is one of the premier universities in India and the State and it is our pleasure to work hand in hand on academic and research activities. KISS-DU is the backbone of tribal education and it has created a niche for itself by introducing seven innovative schools, more than fifteen departments offering Master's degree, and a perfect amalgamation of traditional and innovative subjects in all three streams (Arts, Science, and Commerce) with tribal papers as specializations. One has to visit the campus to believe." He concluded by saying that education is the key to eradicating poverty and ensuring growth and development as advocated by our Founder, Dr. Samanta. Dr. Prashanta Kumar Routray, Registrar of KISS-DU in his address said: "It is a proud moment for all of us as we enter into an MoU with a government university. KISS has been a learning lab since its inception in 1992 and we have been working relentlessly on eradicating poverty through education. It is an exclusive place working for the preservation and revitalization of tribal languages, literature, culture, and tribal rights.  KISS is an eye-opener as it has a streamlined system and has been functioning on the path shown by Hon'ble Founder, Dr. Samanta to "Educate, Enable and Empower". I am thankful to the Vice-Chancellors of both the universities for making all of us a part of this historic chapter."
On this momentous occasion, the Hon'ble Vice-Chancellor of KISS-DU, who is also an alumnus of GMU, donated over one thousand important books written by eminent academicians to the library of Gangadhar Meher University and a cheque of rupees One Lakhs to the Alumni Association of the University under the Alumni Connect Program (Mo College Abhiyan) of the Government.
Prof. N Nagaraju Vice-Chancellor, GMU expressed gratitude to the Founder for proposing the idea of Gold Medals in the name of KISS at the Convocation of GMU and Dr. Nibedita Nath proposed the formal Vote of Thanks to Vice-Chancellors, Senior functionaries, faculty members, and all those who contributed in making this ceremony a grand success.