KIIT and KISS in partnership with Government of Odisha, Bhubaneswar Municipal Corporation and Commissionerate Police (Bhubaneswar and Cuttack), some civil society partners as well as in personal capacity has been doing its bit in battle against Corona. Our efforts aspire to be a drop in the ocean, in bringing smiles on their faces.
To briefly cover the points,
1. India's first COVID Hospital at Kalinga Institute of Medical Sciences (KIMS) is ready and operational. The patients are being treated in KIMS. The Chief Minister of Odisha, Mr. Naveen Patnaik has encouraged and supported the establishment of this speciality hospital. This COVID Hospital is functioning from a block of KIMS with a dedicated team of doctors, nurses, paramedics and housekeeping staff.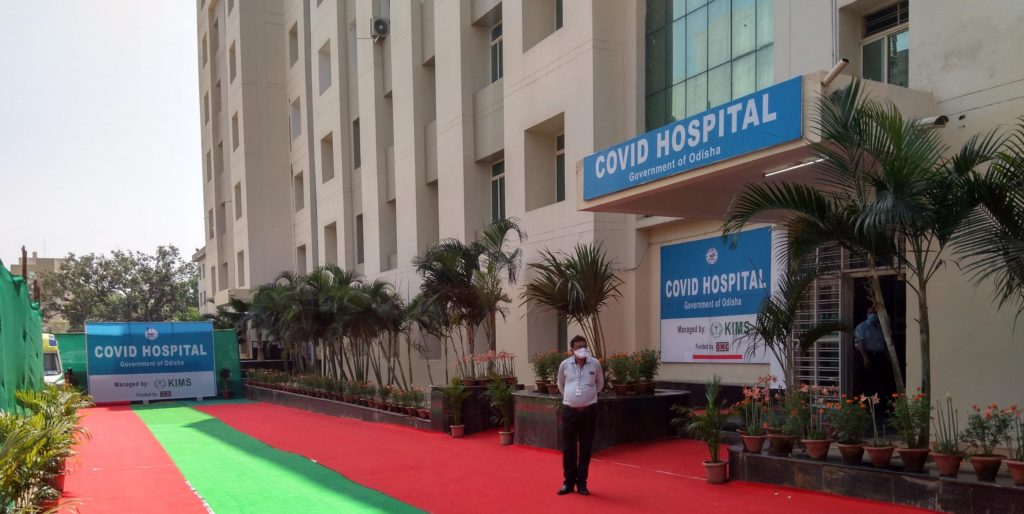 2. KISS and KIIT had started its own initiatives way before India declared a national lockdown. All the students in the various schools and University campuses were safely sent back to their homes well ahead of the lockdown.
3. KISS and KIIT have set up a team to source and distribute fruits, vegetables, biscuits and other food materials to animals in and around the campus– such as monkeys, dogs, cattle. This food distribution to those who are reliant on us happens twice a day.
4. A further separate team has been assigned to deliver cooked food to police personnel on duty. Lunch is provided every day to more than 2000 police personnel across Bhubaneswar, Odisha's capital city. Food is also delivered to police personnel in adjoining cities of Puri and Cuttack.
5. A team has also been distributing family survival packets that comprise of essential food items – rice, pulses, cooking oil etc. to disadvantaged people living in slums.
6. After some areas in Bhubaneswar were marked as containment areas, KISS and KIIT is distributing food and essential items to those people stranded in these specific clusters, so that they have no need to venture out and risk themselves and others.
7. KISS and KIIT is working with the Government of Odisha to provide support in the form of all its available resources – logistics, infrastructure, healthcare, human resources etc.
8. KISS Balangir & KISS Mayurbhanj are also functioning as COVID 19 hospitals, along with a further dedicated COVID 19 Hospital in my parliamentary constituency Kandhamal in association with the district administration. These are 200 bedded hospitals managed by KIMS and round the clock service following WHO and ICMR guidelines.
9. KISS is also working closely with the American Embassy in evacuation of personnel who have been stuck in Odisha and other adjoining areas.
10. KISS and KIIT have been distributing cooked meals to migrant labours from Bihar who are stuck in Odisha. KISS is also distributing feminine hygiene products to women and girls in all the districts of Odisha.
11. The students of KISS are creating awareness on Social Distancing and respiratory hygiene in their respective districts
12. KISS and Sakha have joined hands to provide ration and essential items to Transgender Community in Bhubaneswar and Rayagada.
"I Can Do Things You Cannot, You Can Do Things I Cannot; Together We Can Do Great Things.And we will defeat Corona."said Prof. Achyuta Samanta, Founder of KIIT and KISS who has contributed his three months salary to CM Relief Fund, Odisha. He has been working more than 18 hours a day with his team, maintaining social distancing to bolster Odisha's effort at preparedness, relief and fighting the virus.