KISS Deemed to be University (KISS-DU) and the National SC-ST Hub jointly organized Janajati Gaurav Diwas on 18th November 2021. The event had representation from senior officials from National Scheduled Caste & Scheduled Tribe Hub (NSSH), National Small Industries Corporation (NSIC), Ministry of Micro, Small and Medium Enterprises (MSME), Khadi and Village Industries Commission (KVIC), Coir Board, Central Tool Room and Training Centre (CTTC), Tribal Cooperative Marketing Development Federation of India (TRIFED), National Finance and Development Corporation (NFDC) and KISS-DU.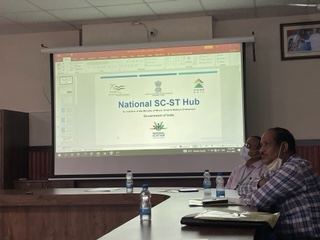 In his welcome address, Dr. Prashanta Kumar Routray, Registrar, KISS-DU said that, in addition to education, KISS ensures sustainable livelihood by introducing subjects like Tribal Resource Management and programmes run by the Vocational Training Unit. Briefing about the various ongoing projects at KISS, he suggested KISS and the participating organizations join hands and take a pilot project focusing on the livelihood issues in tribal districts of Odisha.
Shri Subhasis Das, Chief Manager, NSSH, NSIC, Bhubaneswar spoke about the activities of MSME and shared some of the schemes under which the students can set up an enterprise. He was informed about some of the new apps of MSME, which act as a source of all information related to MSME's Policies, Registration, Services, Schemes, etc. Working hand in hand is the need of the hour and NSIC will be happy to collaborate with KISS in the coming days, he added.
Shri P. K. Gupta, Director, MSME-DI, Cuttack, in his presentation, defined MSME in the context of investment and turnover. Talking about the activities undertaken by the Ministry, Shri Gupta said that adequate focus is being laid on Entrepreneurial Training Programmes, Book Keeping and Accountancy, Preparing Detailed Project Reports (DPRs), Public Procurement Policy, Tender Process, Consultancy, and spreading awareness on different schemes like MUDRA.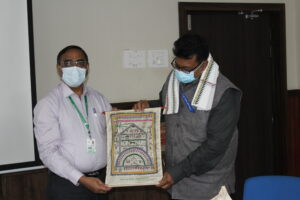 In his talk, Shri Sameer Mohanty, Director, KVIC appreciated the phenomenal work done by KISS since its inception and suggested that the objectives of KISS should be in sync with the government policies to achieve greater heights in the domain of vocational and entrepreneurial skills. He voiced that webinars and awareness campaigns should be organized for passed-out students to ensure an ST representation in Prime Minister's Employment Generation (PMEG).
Shri Jasobant Deshbandhudas, Coir Board described the journey of the coir industry and the significance it holds for the state of Odisha and Kerala. In his PowerPoint presentation, he elaborated various uses of coir and its commercial value. He also talked about various schemes like the Coir Vikas Yojna and different components like Science and Technology, Skill Upgradation and Mahila Coir Yojna, Export Market Promotion (EMP), Trade and Industry, Related Functional Support Services, and Welfare measures.
Shri S. K. Kar, General Manager, CTTC said, KISS is a true example of social transformation. He focused on some of the success stories of CTTC and urged the students to do out-of-the-box thinking. Shri Kar spoke about IPR Clinics that have been setup to offer consultancy even to avoid inadvertent infringement of IPR.
Shri Rahul Kumar, a representative from TRIFED, highlighted the products manufactured by the tribal people and displayed them at the AtmaNirbhar Corner in Embassies. He shared the ways of selling and purchasing tribal products in Adi Mahotsav and Melas. He also discussed at length the current Adi Mahotsav, which is currently going on in New Delhi.
Shri Sunil Sahoo, Zonal Manager, NFDC discussed the different ways of applying for loans under the various prominent schemes of the banks. He said micro-credit schemes, term loans under the auspices of the Adivasi Mahila Sashaktikaran Yojana are paramount. His focus was on the documentation required before applying for loans and financing pilot programmes for upliftment and the economic welfare of persons belonging to the SC and ST community.
The talks were followed by an interaction session with the research scholars of KISS-DU. Dr. Iswar Chandra Naik, Dean, School of Tribal Legal Studies and Tribal Rights, KISS-DU proposed the vote of thanks.