KISS Deemed to be University organized two marathon sessions under the webinar series being held as a part of the ongoing global campaign to celebrate 75 years of existence of the United Nations (UN).
The first session was on "Career Augmentation for Tribal Youth – Opting for Civil Services and Allied Fields". It was a panel discussion held between young civil servants as speakers and KISS students looking to build a career in civil services. Over the virtual platform, the speakers shared their experiences from a civil servant aspirant to becoming a civil servant. The panel discussion addressed Goals 4, 5, 8 and 10 of the Sustainable Development Goals (SDGs).
Addressing the students, Mr. Sambit Mishra, IAS, SDM Dharamjaigarh, Raigarh District said, "No day is the same, every day brings a new challenge. There are many rights for the tribals but none of those are implemented. We are not working for ourselves, but for society and this job is very satisfactory and augmenting. While preparing for the examinations one needs to develop strategies and fish for the high scoring subjects. A thorough brush-up of the previous years' question papers is a must. All the aspirants should keep in mind that there is no substitute to reading newspapers." Mr. Mishra concluded by throwing light on some of the prospects of clearing the UPSC and gave tips on cracking the examinations.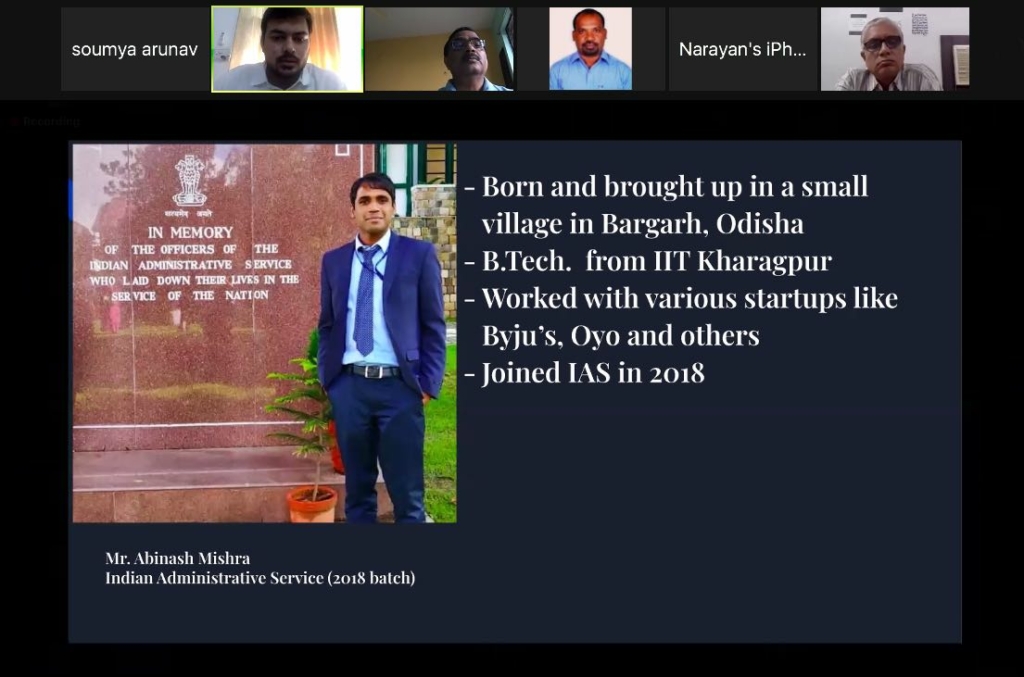 Mr. Abinash Mishra, IAS, SDM Dantewada District, in his deliberation, addressed some of the issues hampering quality education. "Lack of smartphones and network issues top the list in the current situation. This leaves us with two things: Peer learning and combination of online and offline classes. While preparing for the examinations one has to work on communication and interview skills as well." Meeting new people, listening to TV series, and learning to articulate thoughts effectively are some of the strategies one must develop during the preparation process. The key to good interview skills is emotional intelligence, he added.
"I am thankful to KISS and I am feeling proud to be invited today", said Mr. Ashok Kumar Muduli (ORS), Executive Officer NAC Kodala Ganjam District and a KISS alumnus. One should join the civil services to serve own people, areas and society, he said. He shared his journey from working at TCS to becoming an ORS. He believes setting a goal and a dream are an integral part of the planning process. Public sector, banking, SSC, State level exams, railways and forest services are some of the avenues which the students of KISS can explore. Adding more to the avenues, one can explore OAS, OPS, OFS and Group D services also. In his concluding remarks, he asked the aspirants to choose the optional papers wisely.
The second session was conceptualized to address SDGs 4, 5, 8 and 10 as a part of the webinar series 'Career Augmentation for Tribal Youth'. Three young women, through this webinar, narrated their experiences and talked about their chosen career paths, opportunities and challenges faced by girl students. They also highlighted the significance of sports and physical activities in personality development, boosting confidence and building a strong career. This dialogue inspired KISS students for choosing a career path that matches their skills and interests.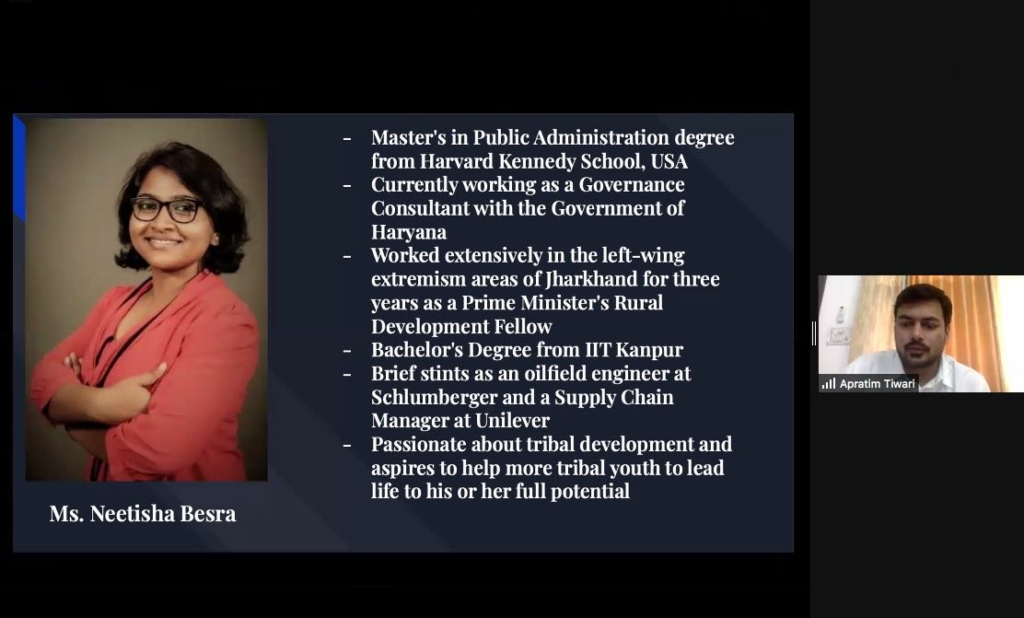 Speaking on the occasion, Ms. Neetisha Besra, Governance Consultant, Govt. of Haryana, Masters in Business Administration, Harvard Kennedy School USA and PMRD Fellow, cited the three important reasons which drive her every day – Family, Community and Personal. She said, "Sports is important because it leads to self-improvement. Lot of first-generation girls have not gone to school in the tribal community, so whoever has gone is a role model. If a woman does not comply to the social norms then she has the fear of being misfit in the society. Education is the only way to go ahead. I have always worked on bettering myself by listening to radios and news, writing diaries and practicing articulation."
"All the great things you are studying can be put to business and KISS students can opt for entrepreneurship. I eyed on self-improvement, self-development and self-exploration with the help of sports. It taught me discipline and helped me in expanding my horizon. I found my weakness and acted on that. My mantra has always been writing your goal and working on it. Ace colleges look for problem solving ability in an applicant", She added.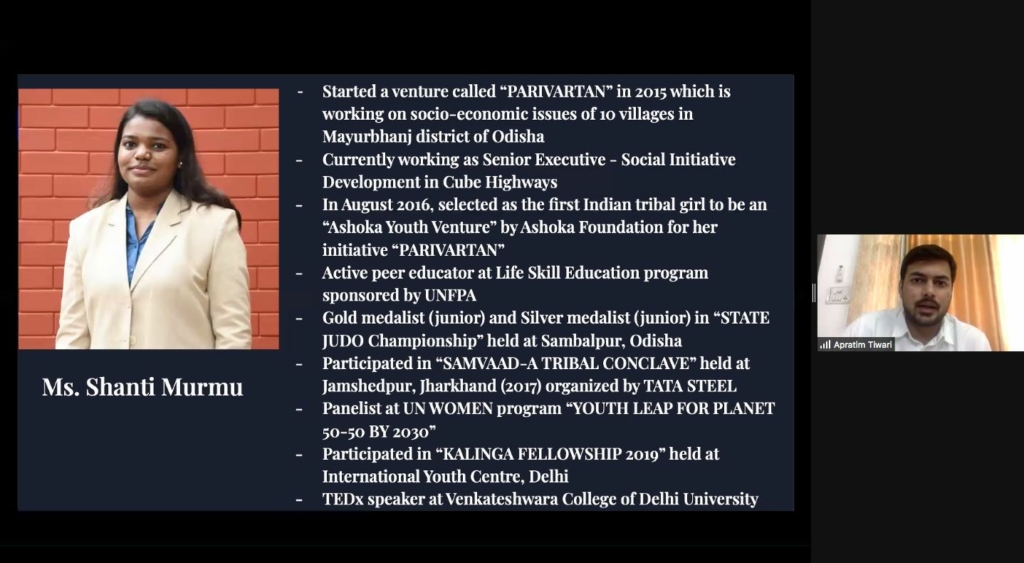 Ms. Shanti Murmu, working in the Social Initiative Department, Cube Highways and KISS alumni, expressed her gratitude towards the Founder, Dr. Achyuta Samanta and the entire fraternity of KISS for playing an integral role in shaping her career. She talked about her social initiative "Parivartan". Ms. Murmu shared how the idea was conceived and the objectives behind this initiative. She wanted to improve the quality of the community life through awareness on the value of girl child, education, healthcare, hygiene practices and preventing diseases. In her suggestions to her juniors she said, "No dream is impossible if you have the determination to achieve."
Both the sessions were wired around infusing motivation, confidence, strength and self-betterment for the students pursuing education at KISS-DU. The entire event was moderated and conducted by Mr. Apratim Tiwari, Faculty-in-Charge, CPC, Kalinga Institute of Social Sciences.