About the School & Programme
The School of Tribal Resource Management, KISS Deemed to be University, was established in 2017-18, to address the current and emerging rural development needs of the country and the inadequacy of homogeneous models of development. The School of Tribal Resource Management actively endeavours to equip its academic programme to measure up to local, regional, national and international standards. It may be mentioned here that KISS Deemed to be University is the first full-fledged institution in the field of tribal resource management in the country. Here students receive quality education free of cost.
KISS is now determined to build on this advantage by creating a regular, organized and permanent framework to ensure that the knowledge and wisdom of yore is explored in depth scientifically for the lasting benefit of posterity. The establishment of a School of Tribal Resource Management is a step in this direction. The School has introduced three innovative interdisciplinary programmes namely Commerce, Economics and Geography, with specialization in Tribal Resource Management in the first phase with the approval of UGC to provide impetus to research in tribal resource management, tribal culture and tribal technology development. Besides implementing the Sustainable Development Goals of the United Nations, the School has succeeded in bringing about the tangible socio-economic changes in the tribal hinterland of Odisha and neighbouring states.
Because of the School's commitment to helping tribal students develop their vocational, entrepreneurial and life skills, it strives to break the vicious circle of poverty and social isolation in which tribal communities find themselves trapped. The school also seeks to make tribal students aware that the people of their communities have a right to access varied indigenous resources and opportunities in order to live a self- sufficient, adequate and dignified life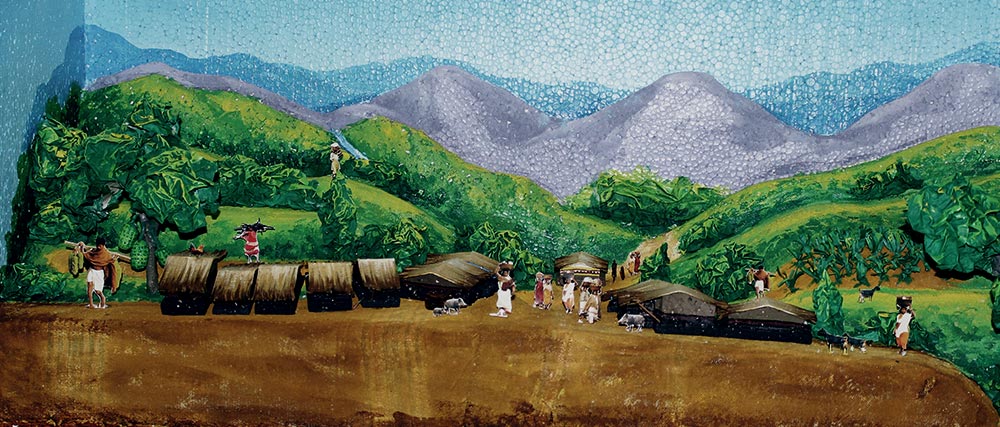 Vision
Emerge as an internationally acclaimed School, recognized for excellence in teaching, research, consultancy and outreach, skill development and social entrepreneurship for tribal youth by promoting their cultural heritage and diversity.
Mission
Foster all-around development of students through multi-faceted education.
Focus on sustainable tribal resource management with the help of innovative courses like natural resource management, sustainable tribal development, tribal entrepreneurship development, tribal marketing, tribal economy and livelihood.
Engage with local, national and global communities to learn vital lessons about start- ups and become successful entrepreneurs in life.
Manage resources effectively for creating employment opportunities including those for self-employment
Academic Programmes
Programmes of the School
The Business Lab is a novel has been set up for Post graduation students under the School of Tribal Resource management in March 2021. The concept of this lab is in response to the rapidly changing business landscape. It serves as a hub for individuals and organizations to experiment, learn, and grow in a collaborative environment. The lab brings together a diverse group of professionals, entrepreneurs, and experts to explore new business opportunities and address complex challenges. The lab encourages innovative thinking by providing resources and support for individuals and teams to explore creative ideas and solutions. It provides an overview and analysis of the Business Lab, a unique initiative aimed at fostering innovation, entrepreneurship, and collaboration in the business world. The Business Lab is a dynamic space that facilitates creative thinking, problem-solving, and the development of new business ideas. The students have used their intellect and skills to prepare ATM Machine, GST implementation model and Diagrams/Models on various commerce related concepts. The students who have entrepreneurial interest will also be greatly benefitted. It is a step towards the growth of student's creativity and practical knowledge on the subject.